| | | | |
| --- | --- | --- | --- |
| | VIET NAM | | Vietnam map |
A country of southeast Asia in eastern Indochina of the South China Sea. Ruled by China from 221 B.C. to A.D. 939 and from 1407 to 1428, it was occupied by the French in the 19th century. After the fall of the French garrison at Dien Bien Phu in 1954, it was partitioned into North Viet Nam and South Viet Nam. The country was reunited in April 30, 1975 after the end of the Viet Nam War. Hanoi is the capital and Hochiminh the largest city.
Topography
Three quarters of Vietnam's territory consists of mountains and hills. Vietnam is divided into four distinct mountainous zones.

The Northeastern Zone (Viet Bac)
This zone stretches from the Red River Valley to the Gulf of Tonkon. The mountainous area of Viet Bac is scattered with famous sights: Dong Nhat Grotto, Dong Nhi Grotto, and Tam Thanh Grotto in Lang Son Province; Bac Bo Grotto and Ban Gioc Waterfall in Cao Bang; Ba Be Lake in Bac Kan; Yen Tu Mountain and Halong Bay in Quang Ninh; and Tay Con Linh, the highest mountain peak in the region reaching 2,341 meters above sea level.
The Northwestern Zone
This zone is comprised of mountains that run from the north of the Sino-Vietnamese border to the west of Thanh Hoa Province. This magnificent mountain range is nationally known for its resort town of Sapa in Lao Cai Province, which is perched 1,500 meters above sea level. Several ethnic groups, such as the H'mong, Dao, Kinh, Tay, Giay, Hoa, and Xa Pho, still reside in this region.
The northwestern zone is also famous for the historical site of Dien Bien Phu and Fansipan Mountain, which measures 3,143 meters above sea level at the peak.
The North Truong Son Zone
This zone runs from the western part of Thanh Hoa Province to the Quang Nam-Da Nang Mountains. This region is known locally for its picturesque Phong Nha Grotto and its two breathtaking passes, the Ngang Pass and the Hai Van Pass. It is also known worldwide for being the location of the legendary Ho Chi Minh Trail constructed during the second great resistance war.

The South Truong Son Zone
This zone is located to the west of the south central coast provinces. Behind these huge mountains is a vast area of red soil known locally as "Tay Nguyen" (the Central Highlands). There are numerous legendary accounts of the flora and fauna and of the lives of several different ethnic minorities living in the Central Highlands. Dalat, established during the 19th century, is a popular resort town in this part of Vietnam.
Vietnam has two major deltas, including the Red River Delta in the North and the Mekong River Delta in the South.

The Red River Delta, or Northern Delta
This region stretches for 15,000 sq.km. Over time, deposits of alluvium carried from the Red River and Thai Binh River have accumulated to form the delta. The ancient Viet people settled at the junction of the two rivers . At that time, the wet rice civilization was established

The Mekong River Delta, or Southern Delta
This region is approximately 40,000 sq. km. The land is very fertile and has favorable climate conditions for agriculture. As a result, it is the largest rice growing region in Vietnam.

Vietnam is crisscrossed by thousands of streams and rivers. There is a river discharging every 20 kilometers along Vietnam's coastline. The waterways are a very convenient means of transport with major rivers like the Red River in the north and the Mekong River in the south.
Vietnam's coastline is 3,260 km long. If you have a chance to travel along the coast of Vietnam, you will be able to enjoy the beautiful beaches of Tra Co, Sam Son, Lang Co, Non Nuoc, Nha Trang, Vung Tau, and Ha Tien. In some places, you will see mountains jutting out to the sea. One such magnificent site is Halong Bay, which has recently been two times listed as a World Heritage Site by UNESCO.
Vietnam's coast has been awarded a series of large seaports, such as the ones at Haiphong, Danang, Qui Nhon, Cam Ranh, Vung Tau, and Saigon. There are thousands of islands and islets scattered offshore from North to South. Among the most popular tourist destinations are the Truong Sa and Hoang Sa Archipelagos.

The forests of Vietnam account for most of the total land area. National parks are preserved by the state and follow a steady development plan. Some of the more famous national parks located throughout the country include Ba Vi in Ha Tay, Cat Ba in Haiphong, Cuc Phuong in Ninh Binh, Bach Ma in Hue, and Cat Tien in Dong Nai.
Vietnam has a variety of mineral resources. Beneath the forests are valuable minerals such as tin, zinc, silver, gold, antimony, precious stones, and coal. Vietnam also has large deposits of oil and gas on its offshore islands and on the mainland.
Vietnam also has abundant subterranean mineral water sources. These are found at Quang Hanh in Quang Ninh, Hoi Van in Binh Dinh, Vinh Hao in Binh Thuan, Duc My in Nha Trang, Kim Boi in Hoa Binh, and Binh Chau in Vung Tau.

Land and Resources
Viet Nam occupies the easternmost part of the Indochinese Peninsula, a rugged, elongated S-shaped strip of mountains, coastal plains, and river deltas.

Soils
The soils of the Red River and Mekong River deltas, the two major deltas of Viet Nam, are composed of rich alluvium except where damming for flood control has altered the stream flow. Soils in the uplands are poor as a result of leaching of nutrients from the ground by the abundant rainfall.

Rivers
The Red River in the north and the Mekong River in the south are the two major freshwater streams. The Red flows almost directly southeast from the northwestern highlands, whereas the Mekong follows an irregular path from Cambodia, crosses southernmost Viet Nam, and empties in the South China Sea through a complex network of distributaries. Both rivers have been leveed to prevent flood damage.

Climate
Vietnam is located in both a tropical and a temperate zone. It is characterized by strong monsoon influences, but has a considerable amount of sun, a high rate of rainfall, and high humidity. Regions located near the tropics and in the mountainous regions are endowed with a temperate climate.
The annual average temperature ranges from 22ºC to 27ºC. In Hanoi, the average temperature is 23ºC, in Ho Chi Minh City it is 26ºC, and in Hue it is 25ºC.
There are two distinguishable seasons. The cold season occurs from November to April and the hot season from May to October. The difference in temperature between the two seasons in southern Vietnam is almost unnoticeable, averaging 3ºC. The most noticeable variations are found in the northern provinces where differences of 12ºC have been observed. There are essentially four distinct seasons, which are most evident in the northern provinces.

| | |
| --- | --- |
| Area | 329,707 sq km (127,301 sq mi) |
| Highest Point | Fan Si Pan; 3143 m (10,312 ft) above sea level |
| Lowest Point | Sea level along the coast |
| Average Temperatures | Hanoi: January 17° C 62° F; July 29° C 84° F |
| | Saigon:January 26° C 79° F; July 27° C 81° F |
| Average Annual Precipitation | Hanoi: 1680 mm (66 in) |
| | Saigon: 1980 mm (78 in) |
| Location | On the E coast of the Indochinese Peninsula in SE Asia |
| Neighbors | China on N, Laos, Cambodia on W. |

Vegetation and Animal Life
Abundant vegetation exists throughout Viet Nam except where the landscape has been denuded. Typical mixed stands in the rain forests contain a wide variety of pines, broadleaf trees, vines, and bamboos. Dense mangroves bordering the distributaries of the deltas often hinder access to the water's edge. The tropical rain forests are inhabited by large mammals such as elephants, deer, bears, tigers, and leopards. Smaller animals, including monkeys, hares, squirrels, and otters, are found throughout the country. Reptiles such as crocodiles, snakes, and lizards, as well as many species of birds, are also indigenous.

Mineral Resources
The northern highlands of Viet Nam contain valuable minerals, including iron, anthracite coal, phosphate, zinc, chromite, tin, and apatite. Petroleum and natural gas deposits lie offshore.
Vietnam Minorities Peoples
1

Viet

21
Ra Glai
41
La Hu
2
Tay
22
Xtieng
42
Lu
3
Thai
23
Bru (Va Kieu)
43
Lo Lo
4
Hoa (Han)
24
Tho
44
Chut
5
Kho-me
25
Giay
45
Mang
6
Muong
26
You Tu
46
Pa Then
7
Nung
27
Gieo Trieng
47
Co Lao
8
Hmong (Meo)
28
Ma
48
Cong
9
Dao
29
Kho Mu
49
Bo Y
10
Gia Rai
30
Co O
50
Si La
11
Ngai
31
Ta Oi
51
Pu Peo
12
E De
32
Cho Ro
52
Brau
13
Ba Na
33
Khang
53
O Du
14
Xo Dang
34
Xinh Mun
54
Ro Mam
15
San Chay (San Chi)
35
Ha Nhi
16
Co O
36
Chu Ru
17
Cham
37
Lao
18
San Diu
38
La Chi
19
Hre
39
La Ha
20
Mnong
40
Phu La
Population
The Vietnamese, related to the southern Chinese, constitute the largest ethnic group in Viet Nam and account for about 88 percent of the total population; the remainder are members of various ethnic groups. The size of the Chinese population, while still the largest minority, has decreased sharply with emigration.

Languages
Vietnamese, the official language, is spoken by the majority of the population (see Austro-Asiatic Languages). The use of French, a remnant of colonial times, is declining. Some Vietnamese people who live in urban areas speak other languages, such as English and Russian. Khmer, Montagnard, and Cham are spoken primarily in the interior. With the exodus of the Chinese in the late 1980s, the once-common use of their language diminished.

Religion
Viet Nam contains a rich mixture of religions, reflecting the influences of many cultures. Traditional Vietnamese religion included elements from Indian beliefs and three Chinese religious systems: Mahayana Buddhism, Taoism, and Confucianism. A majority of adherents today follow Buddhism, including a wide variety of sects. Other religions include relatively new sects such as Hoa Hao, associated with Buddhism, and Caodaism, a synthesis of Christianity, Buddhism, and Confucianism. Christianity, particularly the Roman Catholic church, claims as many as 6 million followers. Religious groups have often played important roles in the political development of Viet Nam.

Currency
The currency of Vietnam is the dong (VND). Notes are available in paper denominations of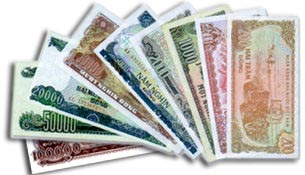 500,000; 100,000; 50,000; 20,000, 10,000, 5,000, 1,000, 500, 200 and 100 VND, and also in metal denomination of 5,000; 2,000; 1,000; 500; 200 d. Throughout the country, American dollars are widely accepted. However, the bills must be relatively new with no markings or tears. Several big cities are used Euro currency. Traveler's cheques are easily exchangeable in banks. Credit cards are becoming more popular, especially in the major hotels and restaurants of Hanoi and Ho Chi Minh City.