RESTAURANTS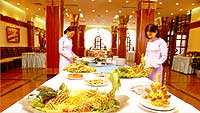 It is meal time, we invite you to the Thien Thai restaurants. We have two large dining halls and a cafe with harmonious architecture combining both ancient and modern styles. These are where you can enjoy the dishes of many nations in the world. Our chef can offer you the delicacies of the three parts of Vietnam. All dishes are prepared with highest quality standard. Furthermore, you are served by native girls in traditional and mystic costumes. The atmosphere is filled with Vietnamese traditional music played by the Thien Thai Folk- music Orchestra next to your table. A real Paradise, isn't it ?
Paradise Cafe
Our cafe - 40 sites with cozy atmosphere serves cakes, pizza, pastries, chocolates, snack, fast foods, and selection of coffees, teas, cocktail, floats plus an international beverage list. Operating hours: 9:00 - 23:00
The Thien Th

ai international restaurant
The international restaurant - 180 seats with French & West European architectures and marvelous view of Hanoi serves you tile dishes of many nations in the world, especially Italian food (spaghetti), BBQ with top of choice meats, fresh sea food, vegetables and fruits. Live folk-music. Daily operating hours: from 07:00am to 23:00pm.
The Thien Thai Vietnamese Restaurant


Vietnamese restaurant with 135 seats, harmonious decorations. Here you can enjoy the delicacies Of tile three parts of Vietnam. Especially, cuisine emphasizes On Vietnamese forest specialties and fresh sea food offered at reasonable prices with live folk music.
Daily operating hours: from 07:00am to 23:00pm.