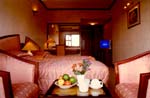 Welcome to Thien Thai Hotel
After landing at Noibai international airport, you just show this address: 45 Nguyen Truong To­ Badinh - Hanoi, to any body, then you shall be able to take whatever means of transports to center capital of Hanoi. This is address of Thien Thai (Paradise) International Hotel, where you shall be given a warm reception by charming Vietnamese girls in their traditional four'slid robes.


The Thien Thai Hotel is ready to offer you its marvels.After only 30 minutes you begin to feel that you are really lucky. Whatever language you speak: English, French or Japanese, our intelligent and attractive girls can understand and offer you exact and careful service.

---