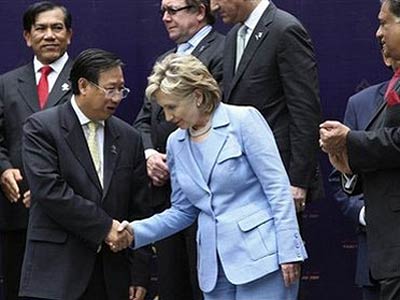 US Secretary of State Hillary Clinton said her country is ready to move to the "next level" of ties with Vietnam.
Now in Vietnam on a two-day visit to mark the 15th anniversary of the reestablishment of diplomatic relations this month and discuss regional security at the ASEAN Regional Forum being held in Hanoi from July 19-23, she told Reuters: "We have consistently moved in the direction of engagement and cooperation, even on those issues where we disagree."
Vietnam is on the path to becoming "a great nation with unlimited potential" and the two countries have "learned to see each other not as former enemies but as actual and potential partners, colleagues, and friends," she said. Clinton also pledged to work with Hanoi on a lingering source of friction -- the legacy of Agent Orange, the defoliant US troops sprayed to destroy crops and jungle cover shielding Vietnamese soldiers.
"We have been working with Vietnam for about nine years to try to remedy the effects of Agent Orange," she said. The chemicals cause cancers, birth defects, and other ailments.
The American Public Health Panel estimates that some 77 million liters of herbicides, including 49.3 million liters of Agent Orange containing dioxin-contaminated defoliants, were sprayed over southern Vietnam.
Clinton added the US supported Vietnam's participation in the Trans-Pacific Partnership, a proposed trade pact between eight countries on the Pacific Ocean -- Australia, Peru, Singapore, New Zealand, Brunei, Chile, the US, and Vietnam.
The two governments also signed an agreement to continue working together to combat HIV/AIDS in Vietnam.
She met her Vietnamese counterpart Pham Gia Khiem who gave a gift of a white tablecloth for her daughter Chelsea, who is getting married July 31.
He also presented Clinton a gem-studded portrait in which she and her daughter, both smiling, wear Vietnamese conical hats. It was reproduced from a photograph taken during their 2000 visit to Vietnam.