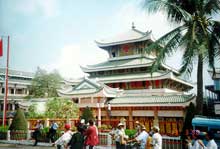 The Mekong Delta province of An Giang is cooperating with neighboring Cambodia to upgrading tourist attractions and improve tourist services.
The province is focusing on developing Cam Mountain Tourism Park into a key tourist service area, building a cable car system which is expected to be ready in 2012 on Cam Mountain, and building a 7km road from the foot of the mountain to Van Linh Pagoda. The upgrade of Tinh Bien Market and Khanh Binh border gate, via which tourists can take the shortest way to the Cambodian capital of Phnom Penh, and construction of five-star hotels are also in the province's plan.
The province recently sent a team to Cambodia to promote tourism as part of a project designed to develop tourism in the Mekong River region.
In addition, An Giang and Cambodia often hold annual exhibitions and fairs in Tinh Bien District to develop tourist attractions and attract travelers to Vietnam via Tinh Bien, Khanh Binh and Vinh Xuong border gates.
In near future, both sides will develop facilities for key tourist areas, strengthen security along the border and in places where tourists come, simplify procedures and exempt visas for tourists.
Bui Thi Hong Ha, deputy director of An Giang Province's Department of Culture, Sports and Tourism, told the Daily on the phone on Wednesday, "Through their fact-finding tours and exhibitions on tourism promotion, An Giang and Cambodia have been working on connectivity programs for travel agencies of the two countries to know each other and bring guests to their respective country."
Ha added the province expected to attract a total of 4.1 million visitors this year, including around 50,000 international tourists.
An Giang is home to 17 ethnic groups which have their particular festivals such as Ba Chua Xu, Chol Chnam Thmay, Dolta, Gi Singing, and cow races.