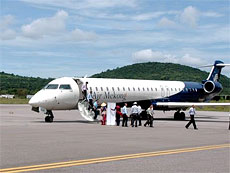 Vietnam's Air Mekong officially launched its maiden domestic commercial flights, taking its first step into the local airline market after two years of preparation.
The country's third private carrier marked its presence in the market with eight domestic routes, including Hanoi – Phu Quoc, HCMC – Phu Quoc, and Hanoi – HCMC. There are also routes from Hanoi to Danang, Nha Trang, Dalat, and routes from HCMC to Danang, Nha Trang, Dalat, Con Dao, Buon Ma Thuot, Haiphong and Vinh.
The airline, which uses a red-headed crane symbol as its logo, uses four three-year-old Bombardier CRJ-900s, chartered from the U.S.-based Sky West Leasing Inc. to provide 26 daily domestic flights.
These planes are configured with 10 deluxe-class and 80 economy-class seats. Doan Quoc Viet, board chairman of Air Mekong, said at a ceremony to receive the Aircraft Operator Certificate (AOC) held in Phu Quoc Island last week that the carrier's strategy was to expand its network to different destinations in the country.
An AOC is required for any air carrier to operation commercial flights. Viet explained the reason to have chosen Bombardier CRJ-900s for starting up business, saying that the jet-engine airplanes could land on almost all runways in the country thanks to their small size.
He said Air Mekong's strategy was not to compete for market share by cutting fares, but rather by improving the quality of service. It operates as a traditional airline, concentrating on the segment of economy-class passengers.
The start-up carrier is upbeat about the maiden flights' seat occupancy as the number of tickets booked for the first flights has gone beyond its expectation of 1,000 tickets launched in a promotion program, according to the chairman.
The airline offers a VND400,000 fare for a single trip from HCMC to Con Dao, Phu Quoc, Pleiku and Buon Ma Thuot, VND800,000 for a trip from Hanoi to HCMC, Dalat, Pleiku, and Buon Ma Thuot, and VND1.2 million for a journey from the capital city of Hanoi to Phu Quoc Island.
Viet said Air Mekong planned to increase its daily frequencies to 34 flights on 10 air routes next month, a time when demand for air travel begins to pick up within Vietnam. He also revealed the carrier's expansion plan, saying that Air Mekong targeted to increase its fleet to 10 airplanes next year, and would offer international flights to some neighboring countries in the next two years.