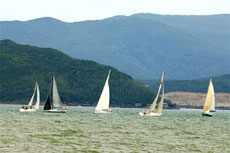 The central coastal city of Nha Trang will host the fourth VinaCapital Hong Kong-Vietnam International Yacht Race from October 20-24. The race is expected to draw more than 200 contestants from Hong Kong , Singapore , the Philippines , Australia , New Zealand and several European and American nations.
The 656 nautical mile-race will select the best athletes for the Rolex Sydney – Hobart competition – one of the most challenged yacht races in the world, which is held annually in December in Australia.
Officially launched in 2004, the biennial VinaCapital Hong Kong - Vietnam race is organised by the Royal Hong Kong Yacht Club with support from the Sheraton Nha Trang Hotel & Spa and the Saigon Tourist Travel Services.
It is seen as a good opportunity to promote sea tourism potential of Nha Trang and Vietnam in general. The country successfully hosted previous races in 2004, 2006 and 2008.