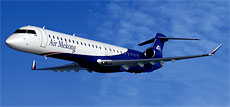 Air Mekong will open more new routes from Hanoi and HCM City to Da Nang City in November 2010.
It also launched two new routes from Da Lat to Hanoi and HCM City.
From November, Vietnam Airlines begin planning to exploit station 2E at Charles De Gaulle International Airport, Paris, France. Passengers arriving, departing from or transiting in Paris will receive luggage, and carry out formalities at station 2E instead of the current station 2C.
Passengers who use business tickets and are members of the Golden Lotus programme can also use a business class departure lounge provided by Air France at station 2E. Vietnam Airlines is exploiting direct air routes from Vietnam to France with eight flights per week, using Boeing 777.