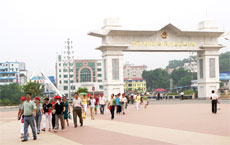 Passengers will not be required to fill in the customs declaration form at 12 border gates across the country by November 15.
The Prime Minister asked the Vietnam Immigration Department under the Ministry of Public Security to remove this procedure for international border gates equipped with electronic passport readers connected to internet.
Prior to this, the Ministry of Public Security issued the customs declaration form for tourists immigrating to Vietnam through border gates under the surveillance of the Ministry of Defence.
The Vietnam Immigration Department also announced previously on September 15 that passengers at Vietnamese international airports do not have to declare in the customs form.