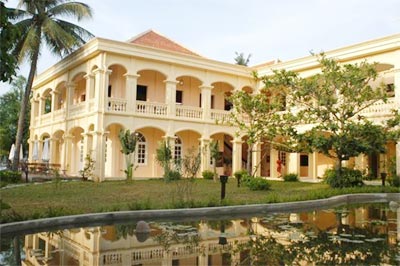 After winning the twelfth spot in the 2009 Conde Nast Traveler Readers' Choice Awards last year, Life Heritage Resort Hoi An inched up the scale to secure a top-10 spot on one of Asia's most definitive resort rankings.
Coming in at No 9, Life Heritage Resort Hoi An shares top-10 real estate with some remarkable company, including four Four Seasons Resorts and one Aman resort. Earlier this year, Life Heritage Resort Hoi An also won a placement on Conde Nast Traveler's Gold List.
The placement is a noteworthy achievement for a resort whose Internet rates currently start at 122 USD/night, comparing to 2,450 USD for a one-night stay at the Four Seasons Tented Camp Golden Triangle in Chang Rai, the list's No 1 resort.
"I'm not going to say that a night at Life Resorts is a night at the Four Seasons. But I will say what Conde Nast has said – that we're both among the top-10 resort experiences in Asia", said Chris Duffy, general director of the Life Resorts.
The Readers' Choice Awards polled 25,916 responses from readers who rated the resort across six categories: activities/facilities, food/dining, location, overall design, rooms and service. Only candidates that received a required minimum number of responses were deemed eligible for an award, according to Conde Nast.
Life Resorts, a resort company from the Netherlands, owns and operates two resorts in Vietnam and manages two others. On Vietnam's central coast, the 94-room Life Heritage Resort Hoi An evokes the colonial splendor of a bygone era on a quiet stretch of the Thu Bon river within walking distance of the trading port's world-famous Old Town, a UNESCO World Heritage Site. On the south-central coast, the 63-room Life Wellness Resort Quy Nhon is dedicated to the tenets of wellness, from yoga, tai chi and Pilates to an ample range of spa treatments.
The 187-room Life Resort Da Nang, one of the group's two managed properties, opened in the spring of 2010 on one of Vietnam's most renowned stretches of beach. Four hours from Ho Chi Minh City, Life also manages the 84-room Blue Ocean Resort at Mui Ne, featuring a 153-meter beach, a 26-meter swimming pool and lush tropical grounds.
The Dutch company is also developing a property on Ha Long Bay, Quang Ninh province, scheduled to open later in 2010.