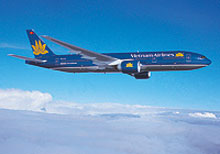 National flag carrier, Vietnam Airlines announced it will officially open an air route from HCM City to Beijing, China from December 16. The new route was planned to operate three flights per week on Monday, Thursday and Sunday.
Flights will depart from HCM City late in the afternoon and early in the morning on the next day. This was an ideal flight schedule for tourists and businessmen to save time. The new air route will be a suitable choice for passengers who want to link flights from China to Vietnam's central region, South East Asia and Australia.
On the occasion, Vietnam Airlines will apply discounts on a return ticket at a price of VND5,830,000 for passengers from Vietnam to Beijing for the period from now to December 16, 2010.
The price can be changed depending on the exchange rate of Vietnamese dongs and US dollars, Vietnam Airlines said. The new air route will help the carrier to become the first airline to explore non-stop routes between HCM City and Beijing.