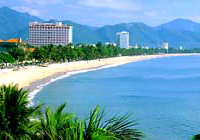 Warm weather, beautiful beach,… Nha Trang, Khanh Hoa is an ideal destination for tourists from cold countries to have a winter vacation.
Till October, 2010, Khanh Hoa Province welcomed 308,000 foreign tourists, increasing 14.34% year-on-year and fulfilling 86.72% the year's target. They are good figures. However, the season of international tourism is between November and January. Before this winter vacation, the provincial tourism department has made careful preparations such as marketing of tourist products via media, joining international fairs and linking with international tourist centers, according to Nguyen Van Thanh, director of Khanh Hoa Tourism Promotion Center.
In addition, travel firms have got everything ready to welcome foreign tourists on their winter holidays. Hotels have been renewed, dishes of many countries have been waiting for foreigners from every countries and special programs for Christmas and New Year seasons have been arranged. Big hotels in Nha Trang such as Vinpearl Land, Novotel and Ana Mandara so far have received a number of books.
In recent years, beside the US, Australia, France, Britain  and Germany, Russia has become a potential tourism market to the Central region in general and Nha Trang, Khanh Hoa in specific. The number of tourists from Russia showed sharp increases year by year. In 2009, 20,000 Russian tourists came to Nha Trang. The figure is forecast to rise more deeply this year when Vladivostok Air opens 14 direct flights from Khabarovsk and Vladivostok to Cam Ranh Airport with 140 passenger on each.
'Most of Russian visitors to Vietnam are from Moscow. New direct flights from Khabarovsk and Vladivostok will be a chance for Vietnam to welcome tourists from Far East Russia", said Le Van Nghia, director of Nhat Minh International Tourism Company from Hanoi.
"Opening flights from Far East Russia to Cam Ranh Airport is a good thing for Khanh Hoa's tourism. Travel firms should take advantage of this chance to attract more Russian arrivals in order that these routes will be kept", said Bui Xuan Luong, an official of Khanh Hoa Department of Culture, Sports and Tourism.