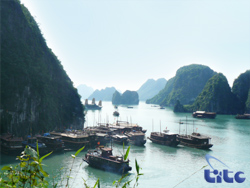 Ha Long Bay, the most natural attraction in Vietnam, has recently been selected by the leading British tourism magazine, "The Lonely Planet," as one of the 10 most famous boat-touring sites in the world.
The Vietnam Tourism General Department confirmed the information and unveiled the other 9 places that are ideal for boat-tours, including the Amazon River; the bay of Norway; the Franklin River, Australia; Disko Bay, Greenland; and Galapagos, Ecuador.
Visiting Ha Long Bay, in the northeastern province of Quang Ninh, tourists can travel on high-quality tourist boats around the bay, enjoying spectacular natural sceneries, or row kayaks on their own to explore multi-shaped islets and caves in the bay.
At present, there are some 500 tourist boats in Ha Long, with millions of domestic and international visitors flocking to the Bay every year.
According to statistics, Quang Ninh Province has welcomed 5.3 million tourists over the past 11 months of 2010, of which, over 2.5 million arrived in Ha Long.