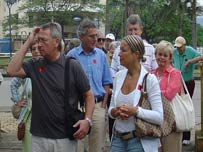 Data from some of Vietnam's top hotels, as well as the Vietnam National Tourism Administration (VNTA), showed that Australian visitors are flocking to Vietnam, the Indochina's most populated nation.
Australian used to travel to Indonesia, particularly Bali, Fiji and Thailand when making plans to explore other parts of the Asia-Pacific region. However, the trend is changing when a largest-ever number of Australian visitors has been choosing Vietnam to spend their vacation.
The number of visitors from Australia to Ho Chi Minh City's iconic Caravelle Hotel has increased double while the Sofitel Legend Metropole Hanoi, the Vietnamese capital's most prestigious address, has seen a 48% rise over the past 12 months.
The Nam Hai resort in the central coastal province of Quang Nam has witnessed a significant upsurge in visitors. The property, recently voted among Asia's 20 best resorts by readers of travel bible Conde Nast Traveler, reported a 69% increase in Australian occupants through the first eight months of the year.
VNTA has reported a 128% rise in Australian visitor numbers in 2010 – the greatest percentage increase of inbound arrivals from non-Asian countries.
The Travel Survey, conducted by Visa and the Pacific – Asia Association, showed that an impressive 16% of Australians planned to visit Vietnam in the coming two years.
Kai Speth, general manager of the Metropole Hanoi, said: "Australia escaped the worst of the global downturn and its dollar is relatively robust, which means Aussies are traveling as much as they have ever done,"
"What's more, Australia has been one of our priority markets in recent years. We have representation at all the big travel trade shows there and I think it's fair to say that our efforts in marketing the hotel are really starting to reap rewards."
John Gardner, the Caravelle's general manager said that Vietnam is becoming a rival to traditional regional heavyweights such as Thailand and Indonesia in the eyes of holidaymakers.
"Thailand is beginning to recover after the recent turmoil," Gardner says. "But throughout that stumble, and troubles elsewhere, Vietnam has sharpened its profile as the region's most safe and secure destination. Safety and security is far more top of mind for travelers today than it was 10 long years ago."
"As well, Vietnam is catering to a wide variety of customers from business visitors to traditional sun-seekers who are steering toward an array of resorts opening throughout the country."
The improvement in air links between Vietnam and Australia plays as another important factor. Low-cost carrier Jetstar opened regular flights between Ho Chi Minh City and big cities of Australia at an extremely competitive cost.