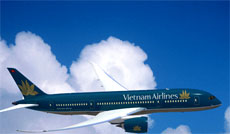 The national flag carrier, Vietnam Airlines announced it will add 99 flights on local routes to provide more services during the lunar New Year (Tet holiday) 2011.
From January 27 to February 1 and from February 4 to 14, the Ho Chi Minh (HCM) City – Hue route will have 41 more flights by A320 and ATR72 aircraft, raising the number of flights to seven a day.
There will be 20 more flights for the HCM City – Phu Quoc route by ATR 72 aircraft, 19 more flights for the HCM City – Quy Nhon route, 13 more flights for the HCM City – Pleiku route, and six more flights for the HCM City – Vinh route.
Vietnam Airlines opened ticket sales on December 10 and 20, 2010 and January 3, 2011. The remaining tickets will be sold on January 17, 2011 and the carrier will give priority to the waiting list.
Low-cost carrier Jetstar Pacific announced it would add seven aircrafts to serve passengers during Tet holiday 2011. Major flights from HCM City to Hanoi and Danang before and after Tet have already filled seats from January 23 to February 12, 2011.
The low-cost carrier is selling discounted tickets from January 7 to 9, 2011. The cheapest ticket at VND 300,000 is being offered for routes from Ho Chi Minh City to Danang and Hue, and from Danang to Hanoi. Tickets on routes from Ho Chi Minh to Hanoi, Vinh, or Hai Phong are being sold at VND 600,000.