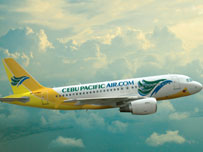 Cebu Pacific, the largest carrier in the Philippines, said it has added more fights to its Ho Chi Minh City-Manila route, and is planning to turn it into a daily service this January.
It now operates six flights a week from HCMC to the capital city of the Philippines, compared from four flights earlier, the company said in a statement. The daily service is expected to begin on January 21.
The carrier served around 30,000 passengers to and from Vietnam in 2009, and wants to expand its market in 2011, said Candice Lyog, vice-president for marketing and distribution.
Cebu Pacific has already purchased new aircraft in order to launch more flights, Lyog said. The carrier plans to have 21 new Airbus aircraft in the 2010-2011 period, making its fleet the largest in the Philippines.