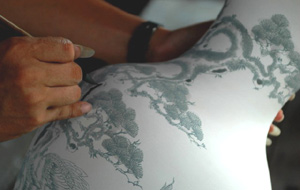 Coming to Bát Tràng pottery village, the tourists not only have chance to contemplate, buy unique traditional pottery art works but also have chance to learn to be "artist" through pottery drawing hobby.
Bát Tràng pottery drawing hobby has been a unique hobby attracting curious mind of any tourists as having occasion to visit this place. The pottery drawing hobby has been put into operation for 5 years by the inhabitants, but after a period of operation, it attracts the participation of a great number of tourists.
This hobby helps tourists understand more about the stages of making pottery, and helps them approach the art of making pottery in different style of each person. On the other hand, it creates a healthy playing field for people who love pottery and want to get acquainted with traditional pottery art.
In order to create a unique pottery work for one's own, the tourists only needs to pay from 10-100 thousand Vietnamese dongs and a little free time, they will immediately have a white plaster work and at their own will and pleasure paint and draw on it with different colors as their hobbies, personalities…
Tourists can draw on the spot by available colors or they also can buy plaster breeding animals and a little color powder and come home to mix themselves and draw at home at any time. However, tourists normally choose the way of drawing at pottery workshop because apart from making full use of "free" colors provided by the head of the workshop - as well as being the experienced person for their products.
Another special attraction to tourists at this game is that after creating their products, tourists can take them home as the souvenirs or grant them to anyone they like without paying any expenses.
Pottery drawing game also attracts many international tourists. They remark it as a unique and healthy game, therefore at any occasion of visiting Bát Tràng, they themselves create the products and take them to their countries as the presents for their relatives and friends.
Pottery drawing hobby at Bát Tràng village is also a unique tourism product attracting the attention of many tourists. Hopefully, with incessant creation, Bát Tràng will remain an attractive destination of domestic and foreign tourists.