Viet Nam Open Tour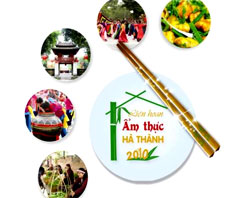 + Hanoi Culinary Festival to feature 500 dishes
Some 500 dishes from every part of Vietnam will be introduced at the Hanoi Culinary Festival, which is to be held from October 6-10 at Ho Tay Park, the Hanoi Department of Culture, Sports and Tourism announced.
A special focus is on traditional Hanoian food with about 300 dishes.
Read more...
Thailand will continue its focus on developing strategic tourism areas, especially in labouring countries like Vietnam, a Thai official said.
Thai Deputy Minister of Sports and Tourism Vichai Srikwan made the remark at a press briefing in Ho Chi Minh City.

Read more...

The national flag carrier Vietnam Airlines will offer special discounts of up to 85% compared to normal prices on all its international flights for individual booking made between September 30 and October 10.
The special prices will be applied for flights departing from October 15 to December 31, 2010 and from April 1 to May 31, 2011.
The large-scale promotion programme with nearly 90,000 tickets to be sold is to mark the 1,000th anniversary of Thang Long-Hanoi.

Read more...

Permanent Deputy Prime Minister Nguyen Sinh Hung has agreed with the proposal from the Ministry of Culture, Sports and Tourism (MCST) to grant free visas to foreign tourists between October and December.
The policy will be applied to foreign visitors who book package tours under a tourist promotions package called " Vietnam - Your destination", the ministry announced.
The MCST will work with the Ministry of Public Security and the Foreign Ministry to ensure the policy is transparent.
The temporary exemptions should lure more foreign tourists to the country, ensuring the stable development of the tourism sector during the 1,000th anniversary celebrations of the capital city of Hanoi.

+ Ao dai to be honoured at Hanoi's grand anniversary:

A magnificent ao dai exhibition will take place in Hanoi on the evening of October 1, kicking off the festival of the grand millennial anniversary of Thang Long-Hanoi.
Collections of ao dai from Vietnam's three regions (North, South, and Central) will be modelled by both professional and amateur models. The models will emerge from Ngoc Son Temple in Hoan Kiem Lake and proceed along a specially-built 350m catwalk artistically decorated with mats, conical hats, and lively dioramas depicting Hanoi in ancient times.

Read more...
Page 25 of 39