Viet Nam Open Tour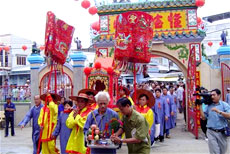 Phan Thiet City will hold the traditional Nghinh Ong Quan Thanh Festival on August 30 - September 1 (from the 21st day to the 23rd day of the 7th lunar month) with some important rituals at Ong Pagoda including a Buddhist prayer ceremony, whale worshipping and a ceremony where people release lanterns on the river to pray for a good life.
Read more...
The Ministry of Culture, Sports and Tourism has submitted to the central Government a plan on developing tourism infrastructure in the 2010-2015 period, highlighting localities that should be prioritized in the coming years.
The ministry on its website calls for investment from both the State budget and private sources to develop infrastructure in key localities where tourism is faring well, the Central Highlands region as well as 21 national tourism parks.

Read more...

The national flag carrier Vietnam Airlines on August 16 officially launched a web check-in service for its outbound flights.
Accordingly, passengers who take departure from Hanoi and Ho Chi Minh City as well as from Vientiane of Laos, Phnom Penh and Siem Reap of Cambodia, Seoul and Pusan of the Republic of Korea, Kuala Lumpur of Malaysia to Vietnam can check-in online with any computer connected internet and accessed to Vietnam Airlines website.

Read more...

Typical Malaysian food and drinks will be introduced during the Malaysian Culinary Week to be organised at Melia Hotel, Hanoi  from August 26 to 31.

Two chefs from Malaysia will bring distinctive offerings from their country such as Roti Canai fried cake, Satay roast meat, fried rice noodles, Roti Jala pancake, Nasi Lemak coconut rice and Teh Tarik tea.

Read more...

Tourism leaders of Vietnam and China signed an agreement in Hanoi to tighten cooperation in a large swath of areas from training and joint marketing to development of new tourism products, an official said.
The agreement, signed between Vietnam's Minister of Culture, Sports and Tourism and head of China National Tourism Administration (CNTA), is aimed at increasing the number of tourists visiting each other's country to three million a year, the source said.

Read more...
Page 28 of 39