Viet Nam Open Tour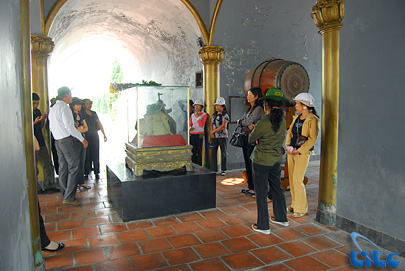 A tour programme entitled "Memories of Old Battlefield and Comrades" has recorded some encouraging initial results after five years of operation, with increasing numbers of domestic and foreign tourists visiting the host province of Quang Tri.
According to Director of the provincial Department of Culture, Sports and Tourism Nguyen Huu Thang, the programme has contributed remarkably to the provinces economic development by creating jobs and reducing poverty.
Read more...
A group of entrepreneurs from Singapore Tourism Board (STB) will be coming to Vietnam for a survey trip next week to help develop cruise tourism.
They are scheduled to visit ports in Ba Ria-Vung Tau, HCMC, Nha Trang and Con Dao from Sunday through Friday, a local official said on Thursday.
The group representing STB, Royal Caribbean International, and KOP Group will inspect the Interflow Port in Ba Ria-Vung Tau, and Navi Oil and Lotus ports in HCMC, and others in Nha Trang and Con Dao, the source said.

Read more...

Danang will create new policies to encourage investors to develop key tourism areas, including Ba Na Tourist Site, Son Tra Peninsula and the beaches of My Khe and Non Nuoc. The local government plans to focus on tourist safety and invest in improving infrastructure, transportation and flight schedules.
A travel promotion campaign via mass media, advertising and marketing will also occur locally and internationally this year.

Read more...

The national flag carrier, Vietnam Airlines will officially re-open a direct air route from Ho Chi Minh City to Japan's Nagoya city on August 13.
The service started in July, 2005 and temporary stopped in December 2007 due to human resource limitation in the context that Japan had to suffer from the negative impacts of the global economic recession.

Read more...

The Ministry of Culture, Sports and Tourism has approved a plan to develop tourism as a key economic sector in the Mekong Delta.
The plan, which extends to 2020, will aid in the country's economic transformation and help reduce hunger and poverty, according to the ministry.
The main goals are to diversify tourism products and fully exploit the country's tourism potential. The plan calls for linkage among provinces and cities in the region and additional investment in tourism projects of international standards.

Read more...
Page 29 of 39