Viet Nam Open Tour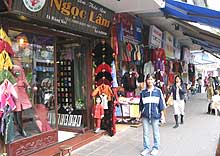 Hanoi and Danang will become the country's first two cities to launch a big sale program designed to spur consumer spending and shopping tourism.
The capital city of Hanoi will kick off the Impressive Vietnam Grand Sale 2010 on August 11 and the central coast city of Danang on August 19. HCMC has yet to decide the start date for the program.
Read more...
The Singapore Tourism Board (STB) has brought into Vietnam its new destination brand "YourSingapore" with an aim to promote the island country as a new-look and attractive destination for Vietnamese visitors.
The introduction of the campaign and Vietnamese-language version of a new website at www.yoursingapore.com demonstrates importance of the Vietnamese market to Singapore, representatives of STB told reporters in HCMC on July 20.

Read more...

US Secretary of State Hillary Clinton said her country is ready to move to the "next level" of ties with Vietnam.
Now in Vietnam on a two-day visit to mark the 15th anniversary of the reestablishment of diplomatic relations this month and discuss regional security at the ASEAN Regional Forum being held in Hanoi from July 19-23, she told Reuters: "We have consistently moved in the direction of engagement and cooperation, even on those issues where we disagree."
Vietnam is on the path to becoming "a great nation with unlimited potential" and the two countries have "learned to see each other not as former enemies but as actual and potential partners, colleagues, and friends," she said.

Read more...

In recent years, a lot of traditional craft villages have been gradually falling into oblivion because their products cannot be sold. Bringing tourists is one possible solution.
An Giang province has 29 famous craft villages, some more than 100 years old.
Phu My forging village is 110 years old and Cho Thu woodwork village has existed since the 18th century. Besides, there are craft villages specializing in making Cham brocade.

Read more...

A series of events will be held for Overseas Vietnamese in the country between now and the year's end.
The events include a requiem in commemoration of war martyrs who died along the Southwestern border and in Cambodia in the war against the Khmer Rouge.
There will also be a cultural week marking the 1,000th anniversary of Thang Long-Hanoi, a live television programme and various summer camps.

Read more...
Page 31 of 39