Viet Nam Open Tour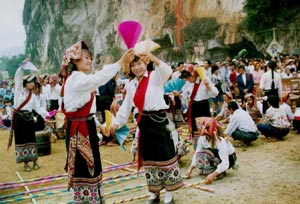 Quỳ Châu district is 160km far from Vinh city on the Northwest. It is a valley located in the old mainland with volcano actions and popular with various caves. Recently, the important archaeological discoveries have shown a number of diverse relics. With values of landscape, archaeology, in 1996 Ministry of Culture – Information (formerly) decided to recognize Bua cave as a national relic.
Read more...
The stork island is located in Chi Lăng Nam commune, Thanh Miện district and stays about 25km far from Hải Dương city. Its pen name is An Dương by nature. It is called the stork village because the village has a small island located in the middle of broad lake with ten thousands of storks and herons residing and nesting. With an area of more than 3,000m2, the stork island is home to 15,000 storks and more than 5,000 herons of various kinds and such rare and precious birds as pelicans and teals residing together.

Read more...

About 90km far from shore, Hòn Mau is one of the twenty one small, beautiful and ideal islands in Nam Du archipelago (Kiên Hải district, Kiên Giang). Hòn Mấu is about 200ha wide with more than 120 households living nearby. Most of the island residents live on fishery and are very friendly and hospitable

 

Read more...

Coming to Bát Tràng pottery village, the tourists not only have chance to contemplate, buy unique traditional pottery art works but also have chance to learn to be "artist" through pottery drawing hobby.

Bát Tràng pottery drawing hobby has been a unique hobby attracting curious mind of any tourists as having occasion to visit this place. The pottery drawing hobby has been put into operation for 5 years by the inhabitants, but after a period of operation, it attracts the participation of a great number of tourists.

Read more...

  

Trúc Lâm Tây Thiên Temple is located in Đại Đình commune, Tam Đảo District, Vĩnh Phúc Province – one of the biggest temple of a Zen Buddhist center in Vietnam. The temple was built on the area adjacent to Tây Thiên – a beauty of nature well-known to tourists

 

Entrance gate to Thiền viện Trúc Lâm Tây Thiên

Read more...
Page 7 of 39