Viet Nam Open Tour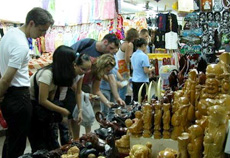 The hub of Vietnam's tourism, HCMC, will launch a month-long promotion for visitors to the city with attractive discounts from December 15 to January 15. It will promote the city as a tourist destination during the high season, the tourism department said.
The city's Department of Culture, Sports and Tourism and Department of Trade and Industry has organized the month of discounts in cooperation with entertainment parks, shopping centers, restaurants, hotels, travel agents, transport providers and many other trade and tourism services.
Read more...
Since 2008, Russian tourists have become increasingly common in Vietnam. Russia is predicted to become a more popular market for Vietnamese tourism. It is among the top ten countries in terms of the growth of tourist numbers to Vietnam, having increased remarkably in recent years. In addition, Vietnam has offered visa exemptions to Russians since January 2009, which has contributed to attracting a huge amount of tourists to Vietnam. Russians who have ordinary passport will enjoy 15 days visa exemptions in Vietnam.

Read more...

Ha Long Bay, the most natural attraction in Vietnam, has recently been selected by the leading British tourism magazine, "The Lonely Planet," as one of the 10 most famous boat-touring sites in the world.

The Vietnam Tourism General Department confirmed the information and unveiled the other 9 places that are ideal for boat-tours, including the Amazon River; the bay of Norway; the Franklin River, Australia; Disko Bay, Greenland; and Galapagos, Ecuador.

Read more...

HCMC authorities have announced a seven-day celebration of the Tet (Lunar New Year) festival beginning on January 31.
The celebration will have six programmes including the usual decoration of Nguyen Hue Street with flowers and ornamental trees, with this year's theme being New Heights. The aim is to highlight the city's efforts to attain higher economic and social achievements.

Read more...

Vietnam's tourism industry has singled out China, the Northeast Asian countries of Japan and South Korea, Europe, and ASEAN as its four main source markets for next year's business plan and will boost marketing activities there, an official said.
Vu The Binh, Director of the Travel Department under the Vietnam National Administration of Tourism (VNAT), said that the VNAT pinned high hopes on these markets owing to the high numbers of visitors this year as well as arrivals in recent years, and the potentialities from these markets in the near future.

Read more...
Page 14 of 39