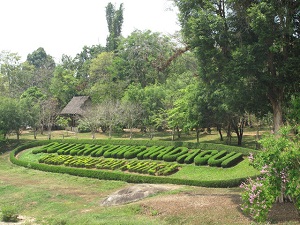 Located halfway between HCMC and Dalat City, Madagui Forest Resort is renowned for its immense woods with many caves, rivers, streams, and gardens with diverse fauna and flora.
The site is an ideal destination for tourists this summer with many options to discover the area: trekking, cycling, or taking an adventure with jeep vehicles. In addition, the resort has recently launched three more kinds of recreations comprised of the wooden boat cruise on Thach Lam Lake, boat rafting to conquer the Da Huoai water flow, and Paintball gun shooting.
The 1,200-hectare resort has nice weather as harmonious mingle between the warmness of the southern province of Dong Nai and a slight chill of the highlands province of Lam Dong.
A cruise on Thach Lam Lake must be a romantic experience. The boat can take up to four travelers who have to sit still to keep the boat balanced.
Meanwhile, conquering the Da Huoai River on a rafting boat promises to be unforgettable for tourists. The activity requires a group of about eight players. When getting on the boat, players have to sit in the right position with one leg on the boat side while the other tied to the hull of the boat by the rope. Together, the players have to row steadily and rhythmically to steer the boat along the stream.
The challenge and also the attractiveness of the game are revealed when the boat finds its way through rocky chasms or swift-flowing areas. Players should keep calm and take full control of the boat in that case. The cruise provides not only a thrilling feeling, but also a chance to admire the splendid and poetic surroundings.
In the high-water season, guests can use bamboo rafts and propping up poles to drift along the Da Huoai River downstream to the Dong Nai River.
Keen adventurers will be impressed by shooting Paintball guns. Madagui is the second place, along with Can Tho City, to provide the game.
The game helps improve gamers' judging and problem solving skills, promote their physical strength and enhance team spirit.
Gear for the game includes a Paintball gun which looks like an AK rifle, provision of CO2 gas, military outfit and protective hat.
Players are provided a training course to learn how to use guns, to gain knowledge of the terrain, defense strategies and the team's secret codes. The loser is the one with the most paint shots onto his/her body and the winner is the first person rushing to grab the flag.
Tourists to Madagui can also camp, watch gong performances by highlands youths, and enjoy local specialties, including fish from the stream and vegetables from the bush.