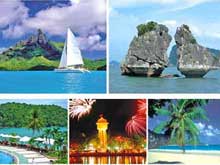 The Vietnam National Administration of Tourism (VNAT) has invited tourism agencies, hoteliers and travel firms to join a marketing program in Germany, Belgium and France later this month.
According to VNAT, all international travel companies and hotels with three-star standard and higher can join the campaign that will travel to some of Vietnam's key target markets. VNAT will promote Vietnam as a destination in Germany and Belgium during the Vietnam Culture Week there, and target France during a French event for Overseas Vietnamese.
Marketing activities in Berlin from August 28 to 31 will include exhibitions, a road show, meetings with the tourism sector, media and Overseas Vietnamese entrepreneurs.
In Brussels, VNAT will organize a road show on September 4 then travel to France September 8 to 12.
VNAT said more than 2.9 million international visitors had visited the country as of end-July, up 34.9% year-on-year. Nearly 1.85 million came for travel, up 44.4% compared to the same period last year.
Vietnam's tourism ranks visitors from long haul destinations of Europe as important source markets because of the higher spending and market size. However, the number of European travelers to Vietnam was still small, excluding France.
The top ten markets in the January-July period included China with 511,800, up 95.4%, followed by South Korea, Japan, Taiwan, Australia, Cambodia, Thailand, France and Malaysia.