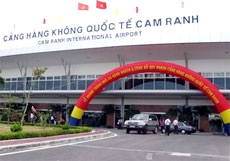 Two new routes from the Russian cities of Khabarovsk and Vladivostok to Cam Ranh international airport in the central city of Nha Trang will be launched this winter.
Russian carrier Vladivostok Air met with the local authorities to discuss the ongoing preparations for the routes' inauguration.
According to a Vladivostok Air representative, 14 flights are scheduled on these routes from mid-December through to March, with two flights every two weeks to Nha Trang.
This will be the first stage in a long-term operation, as Nha Trang with its warm weather and sunny beaches is extremely popular with Russian tourists.
At the meeting, Cam Ranh Airport's authorities pledged to halve the cost of landing charges and services and stated that the airport has all the facilities, equipment and staff to cater for international flights.
Ten four and five star hotels and resorts in Nha Trang have also agreed to reduce their charges for Russian tourists flying to Nha Trang on the new routes by between 20-50 percent.
Cam Ranh Airport became an international airport in December 2009 and has recorded an average annual growth rate in passenger numbers of 21 percent, the highest rate in Vietnam, but had not yet introduced any international routes. Last July and August, it handled 14 direct flights from Incheon in the Republic of Korea.