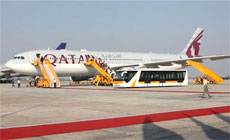 An Airbus A330-300 of Qatar Airways with 250 people aboard landed at Noi Bai International Airport in Hanoi, commencing the Middle East carrier's services to the Vietnamese capital city.
Qatar Airways now has four weekly flights between Doha and Hanoi via a stopover in Bangkok on Mondays, Tuesdays, Fridays and Saturdays. Also from the Thai capital, the airline has three services to HCMC on Wednesdays, Thursdays and Sundays.
The new route to Hanoi and the more flights to HCMC mark Qatar Airways' robust expansion in Vietnam's growing aviation market, which the carrier started to fly to in March 2007 with four weekly non-stop direct flights between Doha and HCMC on Mondays, Tuesdays, Fridays and Saturdays.
The extra flights to HCMC boost Qatar Airways' frequencies in its Doha-HCMC schedule to daily services and its weekly Doha-Vietnam flights to 11. This remarkable expansion demonstrates the confidence of Qatar Airways in Vietnam's prospects.
Akbar Al Baker, chief executive officer of Qatar Airways, will clarify the airline's development strategy for the Vietnamese market at a press conference in Hanoi on Tuesday before a gala dinner for the celebration of its services to this city. He was one of the executives of the airline on the first flight to Hanoi.
The Civil Aviation Administration of Vietnam (CAAV) told the Daily that the country's airports handled more than 15 million passengers in the January-September period, a year-on-year increase of more than 20%.
CAAV reported cargo transport had surged in the year to September as domestic and foreign carriers transported 340,000 tons from January to September, up over 36% year-on-year.