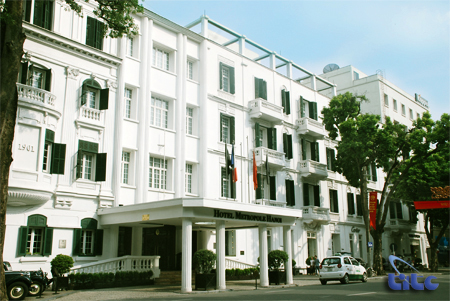 All regions in Vietnam are looking forward to Christmas. Luxury hotels are leading the way in preparing for the season with attractive Christmas displays and events.
In Ho Chi Minh City, the Caravelle hotel is planning to organize the biggest festival in its 51 year history. The hotel will become resplendent, with countless decorated purple and silver lights. The hotel's Christmas festival is scheduled to start on 3rd of December. Christmas carols will be performed by a choir of 30 students from Thang Long School.
"We understand that not many people celebrate Christmas in Vietnam. However, this is a great occasion for HCMC. Plus Vietnamese enjoy the joyful atmosphere associated with Christmas. For example, the Christmas illuminations which are a western tradition are also popular in Vietnam" said John Gardner -General Director of Caravelle Hotel.
The Sheraton Nha Trang, a seaside hotel in the South Central region, is actively preparing for Christmas. It will mark Christmas with a US$10,000 program. This is the first Christmas festival organized by a five star hotel in Nha Trang, with the Sheraton only coming into operation last month. A 6m-high Christmas tree and the candy house which will no doubt entertain children. On December 8, when the Christmas lights are turned on, the manager in charge of rooms Nick Lee will play Father Christmas.
At the Nam Hai - Vietnam's Premiere Resort and Spa - in Hoi An, guests can decorate a two 2m-high Christmas trees brought from Da Lat while enjoying their favorite drink in the bar.
In Hanoi, the Metropole Hanoi Hotel will mark Christmas with the highest Christmas tree in the capital. The hotel which is known as a symbol of Hanoi since 1901 will be decorated with 5,000 lights along its corridors and around the yard. On December 10, the 15m-high pine tree imported from Hong Kong will be displayed in the hotel yard. During December, Christmas cards in which orphan children write their wishes will be hung on the tree. Guests will be invited to take a card from the tree to make a wish come true.
Kai Speth, general director of Metropole Hanoi said that the hotel activities include decorations of lights, Christmas tree and the playing of Christmas carols. However above all, this is the moment when people send their friendship whether in New York, Bethlehem or Hanoi.