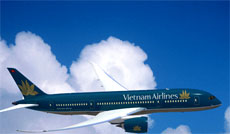 Many foreign and domestic airlines are managing to cash in on the strong recovery of Vietnam's aviation market after the 2008-2009 global financial crisis by increasing their frequencies and opening air routes to the country.
Recent statistics released by the Civil Aviation Administration of Vietnam (CAAV) showed a significant increase in the number of both international passenger and cargo flights in the winter schedule compared to the summer schedule, which often ended in October.
Vietnam Airlines topped the list of international flight operators for network expansion from October to late March in terms of increasing frequencies and launching new routes, particularly in Asia.
Vo Huy Cuong, Director of CAAV's Air Transport Department, said that his agency had approved Vietnam Airlines to operate four more flights on the Hanoi-Shanghai route and three more for the HCMC-Shanghai, and three more flights on each of the HCMC-Kuala Lumpur and Hanoi-Busan directions.
The national air carrier also has more flights to Paris, Moscow, Tokyo and Nagoya, and Korea. In addition to offering more Hanoi-Yangon services, the airline started to fly between HCMC and the city of Myanmar in mid-November.
The SkyTeam member uses many types of its 70 aircraft for the international routes, including Airbus A320s, A321s and A330s, and the Boeing B777s for medium- and long-haul routes to Asian and European destinations.
The list of carriers expanding their frequencies to Vietnam includes Dragon Air, which flies 10 times a week between Hanoi and Hong Kong, or three more flights over the summertime. Eva Air, Aeroflot and Lao Airlines offer one to two more services to the capital city of Vietnam.
The winter schedule also sees foreign budget carriers in the expansion move. CAAV has granted Tiger Airways the ticket to raise weekly Singapore-HCMC frequencies up to 21 from 14, and Cebu Pacific to conduct seven Manila-HCMC flights from four a week.
Tran Vinh Loc, executive director of Lac Hong Voyages Co., said that the demand of both leisure and business guests for air travel between HCMC and the Philippines was picking up remarkably in the run up to Christmas and New Year holidays.
Airlines also launch new flights in and out of Vietnam to cater to demand. LOT Polish Airlines began its non-stop Warsaw-Hanoi service in mid-November while Turkish Airlines will fly on the Istanbul-Bangkok-HCMC route from late December.
In November, the five-star, award-winning Qatar Airways opened its new air route to Hanoi and increased its frequencies to HCMC, bringing the total number of its weekly flights between Doha and Vietnam to 11. Lao Airlines has commenced its new air link to this economic hub of Vietnam.
The wintertime also registers a significant rise in the number of cargo flights to and from Vietnam. According to CAAV, foreign cargo carriers operate 58 flights per week to Vietnam, or 17 more than the summer schedule.
Currently, 51 carriers operate passenger and cargo flights in the Vietnamese market, including four domestic airlines, namely Vietnam Airlines and its subsidiary Vietnam Air Service Co. (Vasco), Jetstar Pacific and the start-up private Air Mekong.