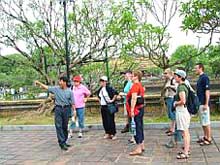 Indian officers have introduced new offers including visa on arrival and train tours in that country in a move to attract more Vietnamese travelers to India's places of interest, particularly Buddhist sites.
Speaking at the "Incredible India: Buddhist Destination" presentation in HCMC, the Indian Consul General in HCMC, Abhay Thakur, stressed Indian Prime Minister Manmohan Singh's announcement during his visit to Vietnam in October this year that the country would extend visa on arrival to nationals of Vietnam, Cambodia, Laos and the Philippines from January 1, 2011.
"This step will help make it even easier for Vietnamese tourists to travel to India," Thakur said at the opening of the tourism promotion, which was attended by representatives of the India Tourist Office in Singapore, the Indian Railways Catering and Tourism Corporation (IRCTC) and low-cost carrier AirAsia.
Rajesh Talwar, Director of Indiatourism in Singapore, said after the presentation that the agency would intensify promotion of Indian attractions in Vietnam as well as create more opportunities for tour operators of the two countries to cooperate in bringing Vietnamese travelers to India.
Nalin Shinghal, Director of Tourism and Marketing at IRCTC, said this corporation had packages of three to eight-day tours by train for Vietnamese visitors to explore different sites in India, with prices ranging from US$105 to US$150 per person per night.
Shinghal said the train packages began in the Indian city of Chennai and covered hot meals of Indian, Thai and even Vietnamese tastes on board, connecting transportation, hotel accommodation, sightseeing, travel guide, admission fees to tourist sites and travel insurance.
Shinghal said the eight-day train package would take in major Buddhist sites including Bodh Gaya, where Lord Buddha attained enlightenment; Nalanda - the place frequented by Lord Buddha and Lord Mahavira; Rajgir where the first Buddhist Council was held after Lord Buddha attained nirvana; and the birthplace of Lord Buddha in Nepal's Lumbini.
Talwar told the presentation that Indian attractions were diverse, from Buddhist destinations to heritage, natural and shopping sites located in zones of different climate conditions. The Indian consul general noted application of double entry visas for those visitors to Buddhist sites, who wanted to enter Nepal from India and come back to his homeland.
Given the visa on arrival, Thakur said it would be better for Vietnamese passport holders to obtain a visa for entry into India ahead of their departure as procedures were completed within a working day if the applicants met all requirements and the visa on arrival would be appropriate for those who did not have enough time.
Thakur estimated at least 28,000 people traveled between India and Vietnam every year, or about 540 travelers every week. Therefore, he underlined the high possibility of a twice to thrice weekly direct service between the two countries, and added that traffic on this route would grow as a result of easier connectivity once there were direct services in place.
India has become an increasing Buddhist destination for Vietnamese pilgrims and general tourists because of the facts that Buddhism is the largest religion in Vietnam and India is the birthplace of Buddhism as the Indian consul general said at the event.
Currently, AirAsia and Thai Airways International and Malaysia Airlines fly between Vietnam and India via their hubs in Bangkok and Kuala Lumpur. Particularly, Thai Airways serves Bangkok and India's renowned sacred sites Bodh Gaya and Varanasi, and connects those flights with its services from Vietnam's HCMC and Hanoi.