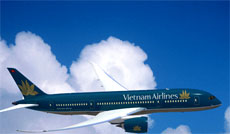 Aiming to meet increasing travel demand between Taiwan and the Mekong River Delta, the national flag carrier, Vietnam Airlines launched 13 direct flights from Taiwan (Taipei, Gao Xiong, and Tai Zhong) to Can Tho and vice versa for the lunar New Year 2011 (Tet holiday).
The first flight from Can Tho to Taipei departed at 1.55pm on December 20th and the return starts at 7.40pm. The following flights will operate on December 29, 2010, and January 12, 19, 21, 29, 30, and February 5, 7, 9, 12, 2011.
This is the second year flights from Can Tho to Taiwan and vice versa have operated with a four-fold increase in the number of flights from 2009.
Vietnam Airlines has also officially launched a new flight between Ho Chi Minh City and Beijing, China. The first flight VN902 from the city of Vietnam departed at 5.40pm on December 16 and the return VN903 started at 1.30am on December 17. There have been three flights on Monday, Thursday, and Sunday by Airbus 321 aircraft with 184 seats.
With the launch of the flight, Vietnam Airlines became the first airline operating a non-stop air route between the Ho Chi Minh City and Beijing. So far, the carrier now operates seven flights to four cities of China, including Beijing, Shanghai, Guangzhou, and Kunming.