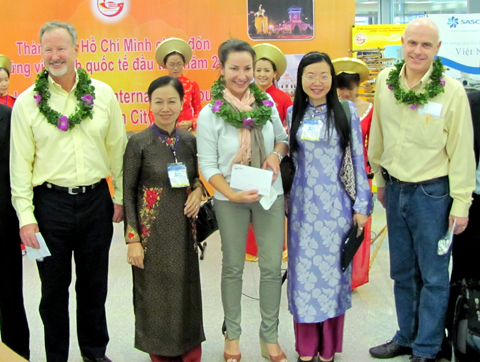 The number of International tourists to Viet Nam in the first week of this year was up 10 – 20 per cent on the same period last year, according to initial estimates.
According to travel companies, regular promotions and advertisements on Viet Nam tourism have been the driving force behind the surge in the number of tourists.
The opening of new of international routes, including HCM City-Istanbul on Turkish Airlines on December 30 last year, Taipei-Da Nang City on Taiwan's Transasia Airlines in mid-December, and HCM City-Beijing on Viet Nam Airlines in mid-December, has also spurred tourist interest. Viet Nam Airlines has seven direct flights to China, and it intends to increase the HCM City-Beijing route from three to four flights per week beginning in April.
Beginning from November, Viet Nam Airlines in cooperation with Vietnamtourist (Vitours) in Central Da Nang City launched charter flights for a three-month period from Hong Kong to Da Nang on Wednesday and Saturday.
The airline began two charter flights per week from Seoul to Da Nang on January 9.
It expects to open a direct flight from Ha Noi and HCM City to London this year.
Tran Chi Cuong, head of the Tourism Division under the Da Nang Culture, Sports and Tourism Department, said the city would open international flights including Da Nang-Japan and Da Nang-Con Minh (China) to attract more international tourists.
Da Nang received 42,000 international tourists by air last year, up 250 per cent year-on-year.
At least 90 per cent of international tourists come to Viet Nam by air.
The additional flights this year will increase the number of international tourists to the country.