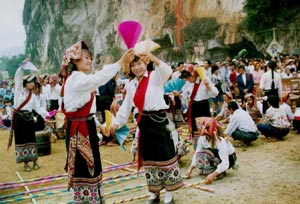 Quỳ Châu district is 160km far from Vinh city on the Northwest. It is a valley located in the old mainland with volcano actions and popular with various caves. Recently, the important archaeological discoveries have shown a number of diverse relics. With values of landscape, archaeology, in 1996 Ministry of Culture – Information (formerly) decided to recognize Bua cave as a national relic.
The largest relic is Thẩm Ồm cave in Châu Thuận commune. This is one of the beautiful and diverse caves. Archaeologists discovered a lot of pieces proving the old Việt people living there. Therefore, Thẩm Ồm can be seen as a relic of the early neolithic stage in Nghệ An.
For one hour enjoying charming sceneries in Thẩm Ồm cave, visitors shall come to see Thái villages. Their stilt houses loom in the mist; the mountain is covered by cloud and the local people's hospitality shall make the visitors unforgettable.
Leaving these villages and caves in Châu Thuận commune, visitors will further travel toward Bua cave – a landscape connected with historical tradition of Thái people. Located in the range of "Phà Én", Châu Trến commune, Bua cave is the crossing of mountains and water, plants and trees, leaves and flowers, etc. Thái people call Bua cave as Thẳm Bua, it means Sen (lotus) cave.
In front of Thẳm Bua there is a large valley where local festivals are often held. It is next to Chiêng Ngam valley – a residential area of Thái people with busy and happy villages. This is a crossing of three rivers: Quàng river, Việc river and Hạt river.
The stalactites from time upheavals create vivid shapes: the old man with cyst in the shoulder, a giant hammer, etc. Inside the cave, there is a smooth flagstone named "Chong Nang", meaning lady's bed, connected with the legend of love between Mr. Khủn Tinh and Ms. Ni and it is the yeast to lure polite boys and nice girls to visit the cave. The terraced fields also appear in the cave thus making visitors feel in their dreams. Just only one drop of water falling into the ground can break through the quite space in the cave.
In the cave, some area is large in hundreds of square meters, with capacity for hundreds of visitors. This is also a place for people in Châu Tiến to organize different cultural activities, namely: drinking rượu cần, gong festival and Lăm Vông dancing.
Also in Châu Tiến commune, far from Bua cave by some 4km on the West, visitor will see Hoa Tiến traditional brocade village. With natural area of 317 hectares, the villages therein are located in form of chessboard. Once arrival, visitors shall have an opportunity to listen to hát xuôi (a type of singing), nhảy sạp (a type of dancing) and see the sophisticated brocades made by skillful hands of people in Hoa Tiến village. At present, this product is sold in the big cities nationwide and in Laos.   
To end the journey to Quỳ Châu, visitors should travel toward Hiếu river, visiting Đũa waterfall. On the boat to reach Đũa waterfall, seeing the water running to the field, you will feel the lyricalness and endlessness of the landscape herein.
Đũa waterfall is the biggest one in Hiếu river, Quỳ Châu district. From distance of 200m, visitors can hear the noise from the waterfall as greeting. After choosing a site for relaxing, Thái girls will serve their traditional dishes in the waterfall. They are cơm lam and canh lam cooked in the young bamboo, pork with grapefruit leaves and other wild vegetables.