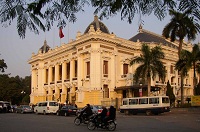 A series of events will be held for Overseas Vietnamese in the country between now and the year's end.
The events include a requiem in commemoration of war martyrs who died along the Southwestern border and in Cambodia in the war against the Khmer Rouge.
There will also be a cultural week marking the 1,000th anniversary of Thang Long-Hanoi, a live television programme and various summer camps. According to the Committee, 150 Overseas Vietnamese youngsters and students will return to their homeland to join young locals in the summer camps set up in 11 cities and provinces across the country from July 15 to August 4.
"During their stay in the homeland, they will take part in educational activities on national history and culture," said the Committee.
Another noteworthy event is the grand requiem that will be held at the Tan Bien Martyrs' Cemetery in the southern province of Tay Ninh from July 15 to 17.
The event, jointly held by the Committee, Tay Ninh provincial People's Committee, the Buddhist Sangha of Vietnam and the Vietnam Post and Telecommunications Group, will also mark the Day for Vietnamese War Invalids and Martyrs (July 27).
A cultural week will follow the requiem from July 27 to August 2. It will include a procession to carry the tablets of the Ly dynasty kings to the royal citadel in Hanoi; a night festival of coloured lanterns and flower garlands; and a sacred ceremony to pray for a peaceful country and the safety of the people.
Last, but not least is the live television programme linking Hanoi, Vientiane and Paris to be broadcast on July 31. The TV programme aims to promote Hanoi's thousand-year-old history across the world on the occasion of its millennial anniversary.