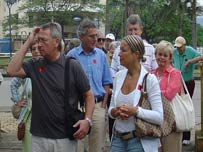 The latest statistics on the increasing number of international visitors to Viet Nam in 2010 have reflected that Viet Nam is becoming a tourist destination with the fast growth rate in the Southeast Asia. Of which, the number of Australian visitors has showed that Australia is the 6th potential market and one of main contributors to Viet Nam tourism.
Australia is separated from the rest of countries in the world map. Maybe this causes Australians love to travel, communicate and make friends. Australians used to travel to Indonesia (particularly Bali), Fiji and Thailand in the Asia-Pacific region. However, the trend is changing when more and more Australian visitors have been choosing Viet Nam to spend their vacation.
This is shown clearly by statistics on the number of Australian visitors to Viet Nam within 11 months of 2010 of the Viet Nam General Statistics Office (about 251,352 arrivals, up 31% over the same period in 2009), and the survey results of travel trends in Asia - Pacific region in 2010 coordinately conducted by Visa International Company and the Pacific Asia Travel Association (PATA) showed that an impressive 16% of Australians planned to visit Viet Nam in the coming two years.
The increasing number of Australian visitors to Viet Nam has also been confirmed by the impressive numbers from leading hotels in Viet Nam as Caravelle Hotel - HCMC, Sofitel Legend Metropole Hanoi, Nam Hai Resort Hoi An. The number of visitors from Australia to HCMC's Caravelle Hotel has increased double while the Sofitel Legend Metropole Hanoi has seen a 48% rise within 11 months in 2010. The Nam Hai Resort Hoi An in the central coastal province of Quang Nam has witnessed a significant upsurge in visitors. The property, recently voted among Asia's 20 best resorts by readers of travel bible Conde Nast Traveler, reported a 69% increase in Australian occupants through the first eight months of 2010.
Explaining for this, some hospitality experts' analysis showed that this is not the temporary exciting trend of Australians. Currently, Australia escaped the worst of the global downturn and its dollar is relatively robust, which means Australians are traveling as much as they have ever done.
During recent years, Viet Nam implemented several programs to promote Viet Nam tourism in Australia. This is an opportunity for Australian visitors to know more about Viet Nam. In addition, Viet Nam also highlights its profile as the region's most safe and secure destination.
According to the survey of travel trends in Asia - Pacific region in 2010, with the Vietnamese traditional culture, friendly and hospitable people, beautiful scenery and reasonable cost of tourist services, Viet Nam is one of the favorite destinations for Australian visitors.
There are several other factors such as improvement of infrastructure system, aviation cooperation, which have made more and more Australian visitors come to Viet Nam. John Gardner, the Caravelle's general manager said that Viet Nam is catering for a wide variety of customers from business visitors to traditional sun-seekers who are steering toward an array of resorts opening throughout the country. The improvement in air links between Viet Nam and Australia plays as another important factor. Low-cost carrier Jetstar opened regular flights between Ho Chi Minh City and big cities of Australia at an extremely competitive cost.
In addition, another factors make the number of Australian visitors to Viet Nam up since Viet Nam is on the impetus of world economic integration and its stable politics giving the advantages for foreigners come to work and travel.