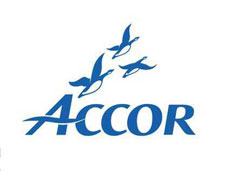 The global hotel management group Accor is rolling up its sleeves to put into service at least four new properties under different brands in Vietnam this year.
Patrick Basset, Accor's Vice President for Vietnam, the Philippines, Japan and South Korea, said that the new hotels would go online given a strong rise in both inbound and domestic travelers last year and bright future prospects.
"This year is an exciting year for us as we are looking forward to opening at least one Pullman, one MGallery, one Novotel and one Mercure by the end of the year," Basset said. "Accor carefully selects its products and brands to meet the demands of each destination."
Basset cited major cities and tourist sites as destinations for the new hotels to be up and running, as the influx of international travelers and the increase in domestic travel indicated that the top segments for Vietnam in the coming year would be business travel and those travelers looking for affordable international-quality accommodations.
"We see that the cities such as Hanoi, HCMC and Vung Tau have a potential of welcoming more business-related travelers, and therefore Accor has plans to introduce its upscale Pullman brand to these destinations. Accor also plans to introduce its leisure family-oriented Novotel and Mercure brands to more leisure destinations such as Danang and Phu Quoc," Basset said.
International visitor arrivals in Vietnam soared to an all-time high of over five million last year, up 34.8% compared to the year before, according to the Vietnam National Administration of Tourism. Inbound travelers in January increased 17.4% year-on-year to more than 506,000.
"A record increase in the numbers of international visitors and especially the rise of domestic travelers show that the tourism trend in Vietnam is strong and has potential to grow," Basset said.
To further tap the potential and the growing demand of international standard economy scale accommodations for both local and international travelers, Basset said Accor would also launch its economy hotel brand, ibis, throughout Vietnam in the coming years.
Basset said Accor had established a partnership with Benthanh Group to develop a network of ibis throughout Vietnam. Late last year, the world's leading operator of hotels announced the partnership to manage at least eight ibis hotels developed by Benthanh Group in Hanoi, HCMC, Danang, Binh Duong and other major destinations in this country.
"With incremental growth and positive elements of a successful tourist destination, Accor has considered Vietnam a strategic market to expand its hotel network," Basset asserted.
Currently Accor operates 11 hotels with nearly 2,200 rooms with brands ranging from luxury Sofitel, upscale MGallery, and mid-scale Novotel and Mercure. Basset said last year was a record year for Accor in Vietnam as the group found five hotels committed to development in Vietnam, adding up to more than 1,000 hotel rooms.
The five were among the over 70 new development contracts in Asia Pacific that Accor signed in 2010 to add more than 16,000 hotel rooms to its network. This record number of new contracts for a single year consolidates Accor's leading position as the region's largest operator of hotels with over 430 hotels and 83,000 rooms under management.
The Paris-based group said it was committed to expansion in the region including in the key markets of China and India and further into markets such as Indonesia, Thailand and Vietnam, where Accor is already a market leader.