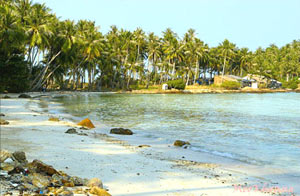 About 90km far from shore, Hòn Mau is one of the twenty one small, beautiful and ideal islands in Nam Du archipelago (Kiên Hải district, Kiên Giang). Hòn Mấu is about 200ha wide with more than 120 households living nearby. Most of the island residents live on fishery and are very friendly and hospitable
The nature has endowed Hòn Mấu with beautiful landscapes, 5 beaches on the island including 2 beaches Chướng and Nam with fine white sand that can be compared by any other places and three rocky beaches: Bắc, Đá Đen (Black Rock) and Đá Trắng (White Rock). Nam beach is the frontage of the island with almost smooth sea all the year round, thus the ships that come to do business stop here. This beach is also very clean.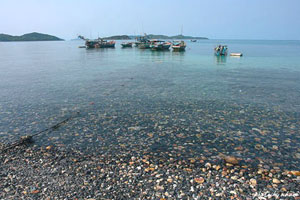 The most interesting hobby is to wallow in cool water in Chướng beach. Such beach is like a huge water lake, surrounded by coconut rows and stretching sand banks, transparent turquoise water. Even you walk away for tens of meters, you will see the bottom. It is close to two rocky beaches with many beautiful rocks. Most of them are shiny black, so they are called Black Rocky Beach. Rocks in this beach are diversified in shapes and colors. When the sun darts its beams, rock under the sea is sparkling with many spectacular colors. Some rocks have quite strange patterns. Rock veins are tortuous in blue and red like marble veins. From Black Rocky Beach, you will reach White Rocky Beach after walking for around 15 minutes. The whole beach is filled only with white rocks. Rocks which are as small as fingers or as big as hands lie along the beach. This beach almost has no sand. Tourists coming to these rocky beaches wish to take some rocks as a gift of the sea.
According to Vietnam Institute of Geology and Minerals Research, Nam Du archipelago is structured by two formations. For rocky formation under fetsic volcanic system alone, it includes tufryolit and ryolit. At big cliffs, it is easy for tourists to image eruption of lava when forming these islands. Rocks are not slates with smooth surface but very rough and rapid like flowing lava of the volcano. Each rock fall bears its own feature to create strange-looking shapes, difficult but imposing positions in front of the sea.
Spending overnight in Hòn Mấu, tourists can feel the sea breath. After 11.00 pm, power generator stops working, the life on the island come back to the inherent deserted nature. Tourists have chance to sit next to the islanders by tea cups or sip rice alcohol with fish and snail caught from the sea while listening to sensational stories of Nam Du archipelago and Hòn Mấu.