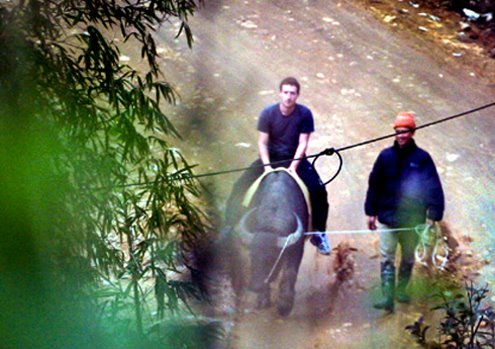 On 26/12, after cycling to the village of Sapa, Mark Zuckerberg , an U.S. billionaire with T- shirt rided on the buffalo with friends.
On 26/12, Facebook CEO Mark Zuckerberg and his girlfriend with four friends planed to walk through the Ho, Thanh Phu, My Son village (Sapa, Lao Cai). Finally, Mark and the team you just visited the Ho and Thanh Phu village.
Starting from Topas Ecolodge -4start resort - located on the Muong Hoa Valley (far from Sapa  18km), Mark with his friends and the bodyguards went through the hills.
Mark with his bicycle leadding the group on the center of Thanh Phu Village..
Then, thanks to the support of six bodyguards, Mark and the team went into a residential wall fence with barbed wire interlaced, trees growing around so no one can access.
At the request of Mark, the owner borrowed nine buffalo for  group riding .
With the familiar T-shirt, Mark rided a buffalo ledding the group .
Previously, the bodyguard of Mark clashed with some people who want to take pictures of Mark ,so the  walking time was shortened. After riding  buffalo ,Mark and his team walked around the streams in Ho valley.
Mark (the middle) looked at Muong Hoa valley landscapes.
Then the group went down the center of Ho valley by car & started playing blindfolded goats. There was  three guards standing around this house. Mark and the team was only playing this game about 15 minutes.
Topas Ecolodge Resort lied between the steep hills surrounding the protection of confidentiality. Around 18h, the group from Ho valley cameback  the resort on seven cars, including six car 7 seats, a 16-seat vehicles. Many of these cars had no passengers.