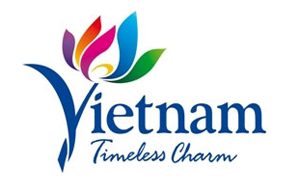 HANOI – The Vietnam National Administration of Tourism (VNAT) on Tuesday announced the new slogan, new symbol and strategy to develop the local tourism sector next year.
VNAT announced the new slogan "Vietnam – Timeless Charm" at a press briefing in Hanoi. Nguyen Thi Thanh Huong, deputy director of the travel industry department under VNAT, explained the slogan not only inherits the meaning of the former "Vietnam – the Hidden Charm" but also features an immense space and time along with diverse tourism products.
Also, the former logo of the industry was replaced with the image of a lotus, a symbol of the beauty of Vietnamese soul and the nation's nature with five petals in five different colors.
The blue color symbolizes sea and island tourism, the green represents ecotourism, the orange depicts cultural and historical tourism, the violet adventure tourism, and the pink on local people's hospitality and activeness.
Composed by a Hanoi resident named Tran Hoai Duc, the lotus logo was chosen from over 400 entries submitted by more than 223 candidates in a logo and slogan competition held from August to early this month. The Ministry of Culture, Sports and Tourism has approved the symbol-logo for the 2012-2015 national tourism promotion program.
At the press briefing, the tourism authority also announced the target of achieving 6.5 million international visitors and 32 million local travelers next year, up 8.3% and 6.67% respectively compared to this year. Total tourism revenue is estimated to amount to VND150 trillion, or some US$7.2 billion.