Viet Nam Open Tour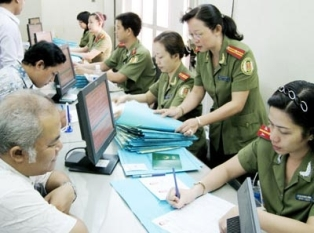 PM Nguyen Tan Dung recently ratified a Project on issuing e-passports in order to raise the efficiency of State management over immigration in the context of expanding international integration.
The project will be piloted in four years. In the first phase (2011-2012) e-passport will be issued only inside Vietnam.
In the second phase (2013-2014), by Vietnam's representative agencies abroad can issue e-passports.
Checkpoints will be set up at border-gates to inspect the e-passports.
Under the project, a national database of e-passports must be able to expand, integrate, and share with other databases of population, personal identity card, and crimes.
The Ministry of Public Security is assigned to develop the national database of passports and immigration.
The organizing committee of the first international sailing festival in Binh Thuan Province has rescheduled the event to January 15-18, 2011 citing possible bad weather as the key reason. The festival was originally scheduled to take place from December 8 - 11, 2010 said Le Thi Thanh Lien, deputy director of the province's Department of Culture, Sports and Tourism.
However, Lien said, the organizing committee is worried about bad weather would affect yacht performances. "The change of the date has nothing to do with the pace of preparations for the festival. Things are going on schedule."

Read more...

Discover the World Marketing, a global travel and marketing representation firm, has been chosen as a sales agent to sell cruise itineraries of Royal Caribbean International in and out of Asia in Vietnam as a potential market.

Bernard A. Keller, director of Discover the World Marketing in Vietnam, said the expatriate community in Vietnam was the target customer for the itineraries of Royal Caribbean cruises taking in Malaysia, Singapore, Thailand, Vietnam and China this year and next.

Read more...

Being endowed with 3,200-km coastline and many splendid attractions, Vietnam has great opportunities to boost sea tourism. According to statistics, 70% of total tourist arrivals to Vietnam have chosen sea tours. However, there are still many things to do to turn this type of tourism into a key element in tourism development strategy.

Vietnam tourism is about to finish the 5 year development period of 2006-2010 to enter a new development era. According to Mr. Nguyen Manh Cuong, Deputy General Director of the Vietnam National Administration of Tourism, in the next 10 years, Vietnam Tourism will move its focus from "quantity" to "quality", in which tours to explore sea, culture, ecotourism, communitiy development are among top priorities.

Read more...

The national flag carrier Vietnam Airlines has announced its plan for higher carriage capacity for the lunar new year (Tet holiday) 2011 from January 19th to February 20th, 2011.

Accordingly, the Hanoi – Ho Chi Minh City route and vice versa will have nearly 7,000 seats a day available each way, increasing by 18% from Tet holiday 2010 and by 57% from the normal schedule. For the peak days, there will be more than 8,500 seats a day and a way, up 88% from regular capacity.

Read more...
Page 16 of 39