Viet Nam Open Tour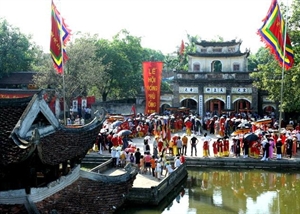 UNESCO officially honoured Vietnam's Giong festival as an Intangible Cultural Heritage of Humanity at a meeting of its Inter-Governmental Committee in Nairobi, Kenya, on November 16.
The Hanoi People's Committee reported that it is Hanoi's third heritage honour presented by the United Nations Educational, Scientific and Cultural Organisation (UNESCO) in 2010.
Read more...
Referred to as "The Market", this specialty spot in the central province of Nghe An is a place only for selling buffaloes and oxen.
The market, located in Thanh Luong Commune, Thanh Chuong District, is opened (according to the lunar calendar) on the 2nd, 6th, 9th, 12nd, 16th, 19th, 22nd, 26th and the 29th monthly.This is the largest cattle market in Nghe An in terms of both scale and the number of participants. Between 300 and 400 buffaloes and oxen are brought to the market per day.

Read more...

With its distinctive culture, beautiful natural scenery and affordable attractions, Viet Nam has emerged as one of the top destinations for travellers in the next two years from Thailand, Australia, Japan and Singapore, according to a survey.
Results of the Asia - Pacific Travel Intentions Survey were shared by two conductors - Visa and the Pacific - Asia Travel Association (PATA) at a seminar in Ha Noi.

Read more...

China is this week hosting its largest annual tourism fair at a time when it seems the whole world is lining up to tap into what has now become a vast market - both inbound and out-bound.
The China International Travel Mart (http://www.citm.com.cn) - to be held this year at the Shanghai New International Expo Centre from November 18-21 - is expected to attract more than 100,000 people, more than half of them members of the public keen to expand their travel options.

Read more...

The national flag carrier Vietnam Airlines launched the direct air route from Ho Chi Minh City to Yangon, Myanmar on November 15.
The new service operates three flights per week every Monday, Friday and Sunday, using Airbus A320 planes.

Read more...
Page 18 of 39