Day 01: Depart from Hoian or Danang to Kontum ( Lunch, dinner )
8h00 Pick up at your hotel. Transfer by car to Kontum the the route number 14.
Stop on the way at Dakto.
14h00 Arrive at Kontum. Overnight at hotel in Kontum.
Day 02 Kontum ( Breakfast, Lunch, dinner )
Morning: 8:00, Transfer to PleiKoNang village (12km). From PleiKoNang, the group starts the trek 6 km to the riverbank of KonPoNang village. Boating down in DakBla River by rubber boats and dugouts, 12:00 arrive at KonBah village. Lunch picnic. Swim. 14:00 Boating down to KonKoTu village, 16:00 arrive at KonKoTu village. 18:30 have dinner in " Rong" house. 19:30 Enjoy traditional "Gong" music, " Xoang" dance and drink local jar-wine. Overnight in "Rong" house.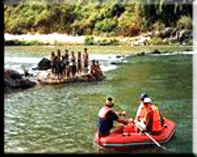 Day 03 : Kontum departure ( Breakfast )
Morning: Car picks up at KonKoTu village and transfer to KonTum town for breakfast.
Transfer back to Hoian or Danang.
End of tour.