Day 01: Depart from Hoian or Danang to Kontum ( Lunch, dinner )
8h00 Pick up at your hotel. Transfer by car to Kontum the the route number 14.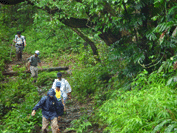 Stop on the way at Dakto.
14h00 Arrive at Kontum. Overnight at hotel in Kontum.
Day 02: KonTum – KonKoTu ( Breakfast, Lunch, dinner )
Morning: 11:00 transfer by car from KonTum Tourist Office to KonKlor suspension bridge. Start the trek crossing suspension bridge to KonKlor II village and to KonJoRi village. Lunch at KonJoRi.
Afternoon: 14:00 trek through forest to KonKoTu village. Swim in DakBla river. 18:30 Dinner in "Rong" house. 19"30 enjoy traditional " Gong" music, " Xoang" dance and drink local jar-wine. Overnight in Rong house.
Day 03: KonKoTu – KonTum – KonRay ( Breakfast, Lunch, dinner )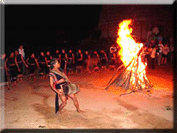 Morning: Breakfast in "Rong" house. 7:00 car picks up from KonKoTu to suspension bridge; then trek the villages of BahNar people: KonRoWang, KoKoPong, KonTumKoNam and Wooden church. Lunch in Kon Tum.
Afternoon: Leave KonTum for KonRay district ( 50km). Visit KonRoSieng village then visit KonCheoleo village ( JoLong people). Trek from KonCheoLeo to KonDu village. Swim in DkPoNe River. 18:30 dinner in Rong house. Overnight in Rong house.
Day 04 : KonRay – Mang Den ( Breakfast, Lunch )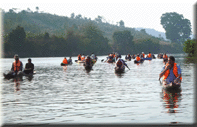 Morning: Breakfast. 7:30 trek through natural pine forest and jungle. Visit Rainbow waterfall. 12:00 arrive at Mang Den peak ( 1200m). Lunch picnic. Car picks up and transfer to Hoi An or Danang on the 24 highway.
End of tour.